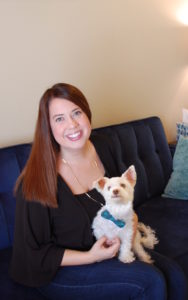 I'm a Licensed Professional Counselor located in the Grapevine and Southlake area. My passion is working with children and teens who are struggling with communication and acting out behaviorally. Typically, my clients struggle to make friends and have difficulty expressing their emotions. My dog, Linus, is a registered therapy dog. He loves coming into session and working with kids!
I graduated from the University of North Texas with my Masters of Science in Clinical Children's Counseling. I have a variety of experience working in the schools, psychiatric hospitals and domestic violence agency work. I specialize in working with individuals who have experienced trauma and children who have been diagnosed with anxiety, depression and children on the spectrum.
In my spare time, I enjoy photography, painting, traveling the world and, of course, playing with Linus!
To learn more about Linus, check out his page here.