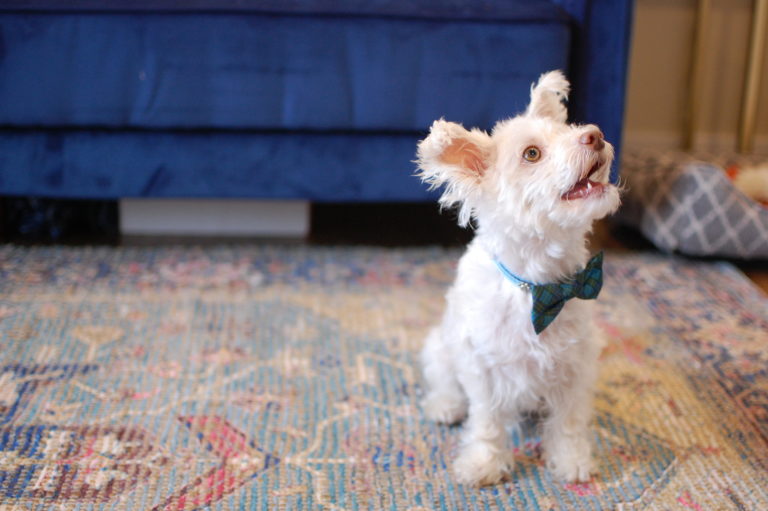 Linus was adopted from a shelter in 2016. He was dirty and covered in fleas but jumped right into my lap when he first saw me. The shelter and vet believe that Linus lived on the streets his whole life before being adopted. Linus adjusted to home life right away. He slept like he was on vacation- not a care in the world.
Soon after coming home, Linus got very sick! He was throwing up and passing out. He had to go to the emergency room three times. It was a very scary time for Linus because the doctors could not figure out what was wrong. Finally after a visit to my grandma, who runs a farm, she recognized that Linus has pancreatitis and is allergic to dog food! His little stomach can't handle the fat in ANY kind of dog food! So, Linus eats home cooked chicken, rice and veggies for dinner. (He eats better than most people!) He hasn't had any issues since!
Linus LOVES people. He is cuddly and affectionate. He loves cuddling up close and being pet.  He decided to go to school to pass his test to be a therapy dog. After 7 months of training, he passed his test with Pet Partners to be a Certified Therapy Dog with flying colors.
Linus is changing lives with his work as a therapy dog. He teaches compassion and patience to those with anxiety and depression. He teaches forgiveness and trust for those with anger and self-esteem issues. He provides comfort and nurturing for those feeling hopeless. Most importantly, he gives love to everyone he meets.
Want to see how Linus can help your child? Schedule an appointment now.